Your involvement helps us celebrate!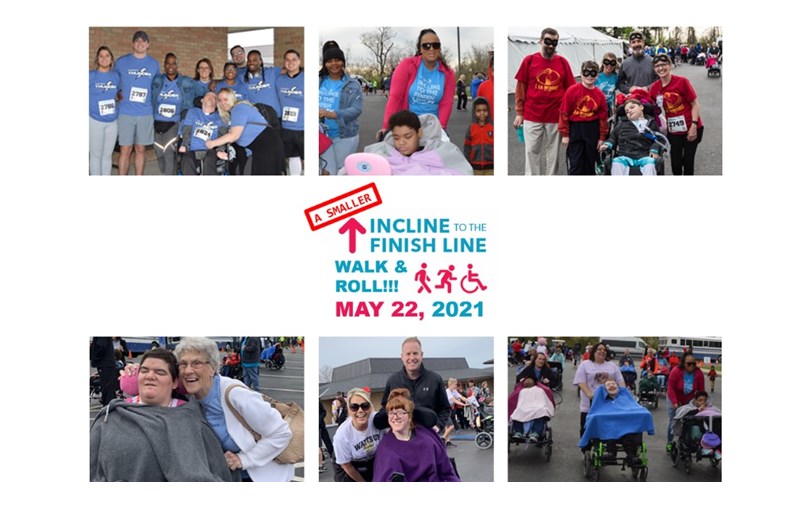 Last Saturday, May 22nd, we had the honor of participating in the Walk and Roll. This is an annual fundraiser for one of the organizations that Howdy, Neighbors supports, the St Joseph Home for kids and adults with severe disabilities.
Jason and his friends had a great time "running" the 1K course and, of course, cheering on anyone and everyone!
Most unfortunately, this event had been cancelled in 2020 due to COVID. It had also been scaled down this year from the traditionally large 5K race to a more intimate gathering of SJH clients and their families. Because St Joseph Home relies so much on fundraisers like this, we knew we had to work extra hard this year to help make the event successful.
Because of your tremendous generosity, we were wildly rewarded, and simply floored with all the kindness! Jason captained a team "Jason's World", and we recruited many of you to help raise awareness and precious funds. Special help arrived when our friend Dan Connors, the President and CEO of St Joseph Home, joined the Jason's World Team. Jason's class and staff at their day program even created a "Jason's World" poster for his team. Together, we were able to attract the most donors (31) and raise the most funds (nearly $2000) of all the great teams out there!
Most importantly, the Walk and Roll raised an overall total of nearly $50,000–which is a huge sum for a small place like SJH. We are so grateful to have been a part of this fun day, and so very thankful for all of your support!
In case you were wondering, it's still not to late to donate to Jason's World and support this terrific cause! Can you help us get to an even $2000?
Special thanks to our unsurpassed fundraising team of superstars:


Chuck and Cindy Aardema
Catalina Campos
The Clein Family
Dan Connors
The Dawson Family
Debra Fishman
Jordan Huizenga
Traci and Chet Huntley
Mike Joos
Pete Joos
Mike and Michelle Kennedy
Mindy and Stuart Kenney
Paige Mintz
The Mooney Family
Gia Rivera
Julie Saldanha
The Schaefer Family
Richard and Sandra Singer
Suzanne and Sam Smith and Family
Julie Strotman
Annalista Tempesta
Lisa Watson
Lori and Pete White
Katherine Wilson
…and several Anonymous Donors
Next up (in July): the Ten Thousand Honks campaign!